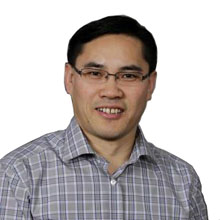 Born in Hebei province, China, graduated from Beijing Institute of Technology, and earned ME Phd, Michigan State University.
Jie engaged his real estate investment in 2017. Started with flipping houses and sold many of them, made lucrative profits,  Jie is a hands-on person. He did all the work from house framing to interior decorations, plus outside 
landscaping, anything you can image in the business, he has done them such as roofing, painting, flooring, plumbing, drywall… Jie is not a one man team, He has worked with and managing other contractors during the flipping process. With all the experience and knowledge he had, he is now a real estate agent, ready to serve/ assist others who has real estate interests. 
Floors (tile and laminate), deck, water heater, furnace, fence, framing, bath tub/toilet, painting, drywall work, light fixtures, and so on, all on my own on the first house flipping in about 4 months, and sold several flipped houses quickly in the past two years. So far house flipping is still my highest priority for side work, but already relieved from heavy labor works. Most importantly, from this side work a lot of first hand experience has been accumulated and will be beneficial to both house rental/management and flipping/contractor cooperations. In the foreseeable future, as a salesperson/ Realtor, hope to contribute my knowledge to the people who are interested in real property investment or to the people who are still looking for their primary homes. 
Specialized in: Residential, rental,

 flipping

Service Area:

Great Lansing area. Lansing, East Lansing, Okemos, Mason, Holt, Eaton rapid, Grand ledge

Language: Chinese mandarin, English.
 
出生于河北,毕业于北京理工大学车辆工程专业,后取得密歇根州立大学机械工程专业博士学位。
从2017年开始从事房地产投资。至今已经翻新并迅速售出多处房产,同时拥有多处自己出租屋。获得经济利益的同时喜欢上了这份事业。  像许多人一样,从开始本着投资出租房的目,寻找房源,特别是银行房开始,到独立完成屋的所有必要翻新工作。尝试过许多翻新后出租以及修缮后销售二种途径。熟悉房屋结构及建筑标准,有着大量出租屋管理及与建筑工人合作的经验。加入壹密房产后,愿意分享自己的经验和知识,为房地产投资人和买卖家提供有效的房产服务。
美好生活从房地产投资开始。
目前服务范围Great Lansing area 包括Lansing, East Lansing, Okemos, Mason, Holt, Eaton rapid, Grand ledge, 等地。
•     Accredited Buyer's Representative® / ABR®
•     Seller Representative Specialist / SRS
•     Pricing Strategy Advisor / PSA
•     Real Estate Negotiation Expert (RENE)

WE'LL HELP YOU FIND A PLACE YOU'LL LOVE