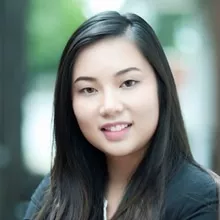 Originally from Seattle, Washington, April is from a real estate and business family. She is fortunate to be able to combine these areas of expertise: she is good at negotiating, pricing, finding just the right home, and understanding financing.
April is a trained engineer with business mind. She pays attention to details and will provide you with all the 
information you will need to make a sound financial decision that your family will benefit from far into the future. April believes a house is not just a home, it's one of the biggest investments/purchases you'll ever make. She will help you every step of the way, from figuring out your needs, securing a loan, negotiating with the seller, going through the inspection, and remodeling.  If you are a seller, April will ensure that your home is well presented and priced appropriately for the market. April's business model is to help clients understand what they want and provide exactly that. She treats every transaction as if it were her own. April is currently enrolled in Ross Business School at University of Michigan, Ann Arbor.
With April's personal experience and professionalism in buying, selling and investing in real estate, you will be satisfied with her service.
April is a gradate of the University of Washington-Seattle, with an MS degree in Structural Engineering.  In her spare time, she loves outdoor adventures such as rock climbing, camping and sky diving.
Specialized in: residential, investment, leasing, company relocation, commercial.
Service Area: Ann Arbor, Canton, Plymouth,Northville, Livnona, Westland, Farmington ,Novi
Language: Chinese mandarin, English.
 
来自西雅图,华盛顿州,April生长在一个做房地产和经商的家庭。她很幸运能够结合这些专业领域。她善于谈判,定价,找到合适的房源,熟悉贷款流程。
April是一个训练有素的工程师具有商业头脑。她注重细节,并将为您提供所需的所有信息,以做出一个健全的财务决策。 April认为一个房子不只是一个家,它是最大的投资。她会帮助你的买房的每一步,从找出你的需要,确保贷款,与卖方谈判,通过检查和正确修理。如果你是一个卖家,April 将为你的家做很好的宣传介绍和提供合理的市场价格的建议。 April的商业模式是帮助客户理解他们想要的,并提供正确的建议。她把每一笔客户的交易当作是自己的房子来买卖。 April目前在安娜堡密歇根大学的罗斯商学院在攻读MBA。
April的个人经验和专业精神体现在购买,销售和投资房地产,你会对她的服务感到满意。
April 是华盛顿 – 西雅图大学的毕业生,拥有结构工程硕士学位。在业余时间,她喜欢户外探险,如攀岩,露营和跳伞。
精通语言: 英文, 中文
•     Accredited Buyer's Representative® / ABR®
•     Seller Representative Specialist / SRS
•     Pricing Strategy Advisor / PSA
•     Real Estate Negotiation Expert (RENE)

WE'LL HELP YOU FIND A PLACE YOU'LL LOVE