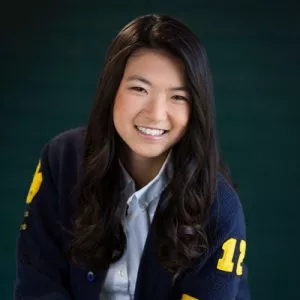 Anna is the youngest member of our group. Born and raised in Michigan, Anna is from a family with an engineering and consulting background. She has also taken business and engineering courses at the University of Pennsylvania, which provides her with the knowledge to make the best financial decisions for your family. With Anna's personal experience as a data analyst intern at Ford, she will be able to point out trends in the market to help you choose the 
best course of action.
Anna has lived in Bloomfield Hills for the past 5 years and prior to that, she lived in Canton for over 10 years. As a result, Anna is very familiar with the Canton and Bloomfield Hills area and knows the ideal location for a home.
Anna is a senior attending Detroit Country Day School and will study EECS at Massachusetts Institute of Technology(MIT). At 1st Michigan Realty, she has spent time collecting market data for the areas she loves including subdivisions in Canton, Novi, Northville, and Ann Arbor, while also working on improving the website to become more user-friendly.  
In her spare time, she enjoys running with friends and playing the violin.
Language: Chinese mandarin, English.
 
来自于工程师家庭、出生密西根的Canton,成长在Bloomfield。是一位土生土长的密西根人。安娜是我们团队最小的一员,在暑期进修宾夕法尼亚大学的工程课程学科的同时,她帮助团队和客户进行数据分析。收集、整理在当地各小区的市场数据,为客户的购房决定起到了关键的作用。
在Bloomfield的5年和之前在Canton的10 年。安娜对密西根的城市了如指掌。给数据赋予了新的意义。目前在底特律私立学校Country Day上高中。目前,被麻省理工学院(MIT)录取,就读计算机和电子专业。
业余时间,安娜喜欢田径运动,跑步和拉小提琴。
精通语言: 英文,会听中文。
•     Accredited Buyer's Representative® / ABR®
•     Seller Representative Specialist / SRS
•     Pricing Strategy Advisor / PSA
•     Real Estate Negotiation Expert (RENE)

WE'LL HELP YOU FIND A PLACE YOU'LL LOVE